Paver cleaning and sealing in Bradenton is an excellent way to keep your property clean and pristine and looking its best. Thorough power washing removes gritty sand and other debris, while sealing especially helps avoid otherwise unnecessary damage along patio pavers, brick walkways, flagstone, and other such surfaces.
While Bradenton paver cleaning and sealing is the best way to protect your property's beautiful brick and stone, it's vital that you leave this work to the professionals. Power washing and sealing are often more complicated than "meets the eye," and a professional pressure washing contractor in Bradenton offers an expertise you can't duplicate by watching online tutorial videos.
To keep your property in its best condition and avoid creating more of a mess than you started with, note a few important reasons you need to call a professional for paver cleaning and sealing. It's also good to review some benefits of this work for your residential or commercial property.
Why Your Property Needs Paver Cleaning and Sealing in Bradenton
One obvious benefit of paver cleaning is an improved appearance outside your home or business, and note that many homeowners and commercial property owners don't even realize how dirty their walkways are until after they're cleaned! You might overlook easily layers of dirt, mud, sand, dried dust, footprints, and other unsightly debris, and not even realize how dull and drab your pavers have become over the years.
Paver cleaning and sealing in Bradenton is especially important, as sand, silt, and other gritty debris commonly found on walkways in many Florida cities etch and scratch stone surfaces. That debris also works its way into the pits and pores of paver stones, concrete, flagstone, brick, and other such surfaces, making it difficult to wash those areas with an underpowered garden hose.
Pressure washing and soft wash systems remove that damaging debris, protecting stone surfaces from long-term damage. Sealing is an excellent next step, as sealants provide a protective barrier between stone and harsh Florida weather and sunlight! Paver sealant helps keep sand and debris out of those pits and pores, prolonging the clean appearance and overall life of your exterior surfaces.
Proper walkway cleaning also provides a safe surface for foot traffic. Gritty debris, moss, mold, mildew, and other residues are often slick underfoot, increasing the risk of slip and fall accidents. Safe surfaces are vital for homes but especially commercial properties, as business owners are often financially responsible for accidents on their property and especially those caused by unclean surfaces.
Avoid DIY Paver Cleaning and Sealing in Bradenton
Since Bradenton paver cleaning and sealing is so vital, why avoid tackling this job yourself? There are actually a number of reasons to leave all power washing services you need to have done to the professionals!
One reason to call a power washing company in Bradenton is that controlling a pressure washing wand is often more difficult than property owners realize, and the risk of creating a mess or damaging surfaces is often increased when cleaning pavers. Many patio pavers are simply pushed into the ground and not secured with a concrete or other such base, so it's easy to dislodge those stones during the power washing process.
Patio pavers are also sometimes spaced a few inches apart, making it very easy to kick up dirt and mud during power washing! Soft wash systems also help dissolve thick dirt, grime, sand, and other residues without the need for high-pressure washing, reducing and eliminating splatter and saving on the use and cost of fresh water.
Using the right cleansers is also vital for proper paver cleaning, as well as all the Bradenton power washing you need to have done. Harsh detergents tend to dry out stone surfaces, making them brittle. Failing to rinse cleansers properly also means a dull appearance and the risk of trapping and locking more dust and dirt on stone surfaces. To avoid all these risks and ensure a thorough cleaning job, call a pro for paver cleaning and sealing on your property.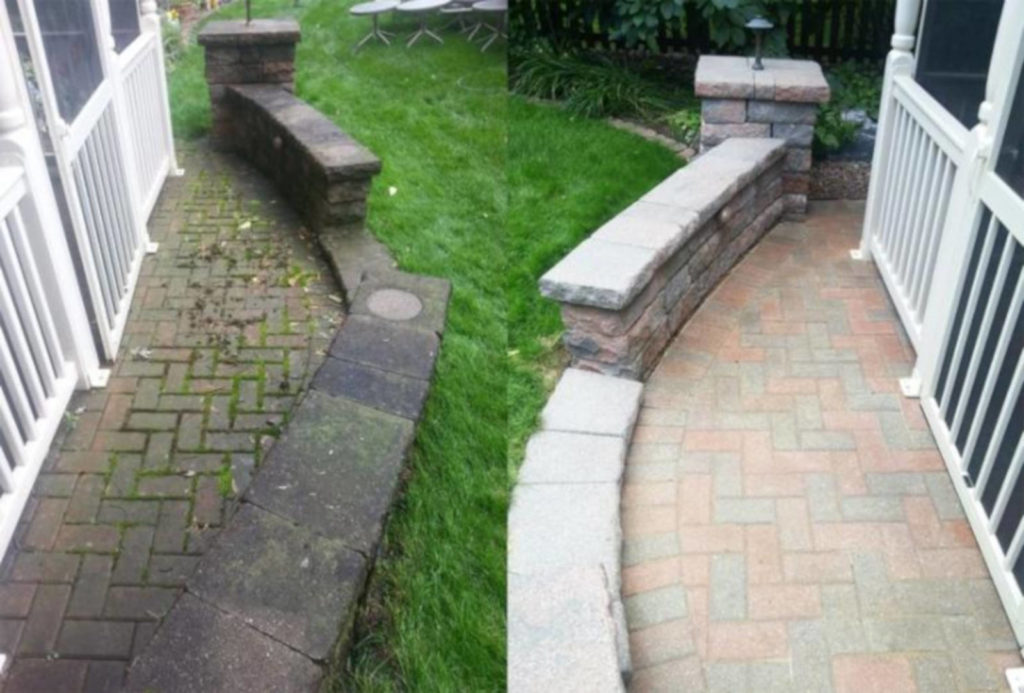 What Is Soft Wash Power Washing?
When you schedule paver cleaning and sealing for a Bradenton property, you might consider other power washing services at the same time! Patio and deck pressure washing creates a clean and welcoming environment, ready for relaxing and entertaining, while gutter cleaning protects a structure from potential water damage. Power washing also improves the appearance of every square inch of your home or business!
Soft wash systems are also an excellent choice for all the power washing you need to have done. Soft wash systems start with specialty detergents or surfactants designed to dissolve even the thickest dirt, mud, and grime, and kill mold spores and spreading mildew. Once these residues dissolve, a low-pressure rinse is all that's needed to wash everything away.
Soft wash pressure washing is an excellent choice for gutter cleaning, window and patio door washing, and fence and deck power washing, where high-pressure rinsing might create too much splatter and damage certain materials. Soft wash systems also remove storm debris, dried soot, acid rain residues, and other materials from roofs without dislodging shingles and tiles.
How to Choose a Bradenton Power Washing Company
Not every power washing company in Bradenton is alike, which is why you want to take the time to find one you can trust with your property's pressure washing needs. One important first step is to check online reviews and note specific comments left. Do past customers mention their professionalism and attention to detail?
A reliable pressure washing company in Bradenton should also take the time to inspect your property completely before offering a quote. Every home and business varies in size and cleaning needed, and a company offering a "one size fits all" price quote might not take the time to ensure your property gets the attention it needs for a thorough clean!
It's also vital that you choose a company specializing in paver cleaning and sealing in Bradenton! Florida weather wreaks havoc on patio pavers and walkways, and proper cleaning of these surfaces requires some skill and know-how. Choosing a company with this specialty experience ensures a professional job that leaves your property clean and pristine and looking its best.