If you've been putting off needed tile roof cleaning in Bradenton, you might consider a few reasons why this service is so vital and how it can protect a property from damage. You can then discuss your power washing needs with an experienced professional near you, and ensure you're keeping your house or commercial property in good condition and always looking its best.
How Bradenton Tile Roof Cleaning Protects a Structure
Everyone knows that dirt, dust, storm debris, and soot piled onto a roof look unsightly, but these residues can actually lead to premature damage. Storm debris holds moisture against tiles, softening them and leading to eventual cracking and other damage.
Dust, soot, and airborne dirt have the opposite effect; these can dry out clay tiles, also leading to cracking and breakage. Thick debris can even work its way underneath and between tiles, loosening those pieces and increasing the risk of losing them in high winds or strong storms.
Some roof debris can even rust or corrode nails, bolts, and other connectors. Once these connectors corrode, they pull away from roof decking, which also risks losing tiles in windy weather. Rusted connectors can also stain tiles and create a dingy appearance.
Regular tile roof cleaning in Bradenton removes that damaging debris, protecting your home or commercial structure from premature damage. Tiles will then last longer when you invest in professional power washing and cleaning for your property.
Tile Roof Cleaning in Bradenton Improves Curb Appeal
A structure's roof might be the last thing you think about when it comes to curb appeal, but property owners are often surprised at how tile roof cleaning in Bradenton improves the look of a home or business. Thick layers of dust, dirt, mud, sand, silt, and other debris make a roof and, in turn, an entire building look neglected and dingy, while expert cleaning restores a roof's appearance.
It's also vital to note that many homeowners and commercial building owners choose tiles for a structure's roof because these pieces are so much more attractive than standard shingles. However, those tiles won't stand out if they're covered in dirt and grime. Your property's roofing tiles will seem brighter and their colors truer when you invest in regular Bradenton power washing.
Improve Outdoor Air Quality With Regular Pressure Washing
Homeowners might invest in indoor air purifiers and filters, hoping to remove allergens, irritants, chemicals, and other bothersome residue from interior spaces, but then assume there is little they can do about outdoor air quality. However, regular pressure washing including tile roof cleaning is an excellent investment in your property's air quality and even your own health.
Regular exterior pressure washing removes dried dust, air pollution residues, pollen, mold, mildew, and other irritants from outside surfaces, including a home's walls and roof. Exterior wall washing also cleans away smokey residues from a barbecue or grill, and cigarette smoke clinging to a home's brick, siding, and wood features. This regular cleaning means better outdoor air quality and easier breathing.
Professional power washing can also remove insect nests from along roof eaves and other areas outside the home, reducing the risk of stings and bites. You can then breathe more freely and may even have fewer allergic reactions or asthma attacks when you choose regular exterior house washing, patio and deck pressure cleaning, and tile roof cleaning in Bradenton.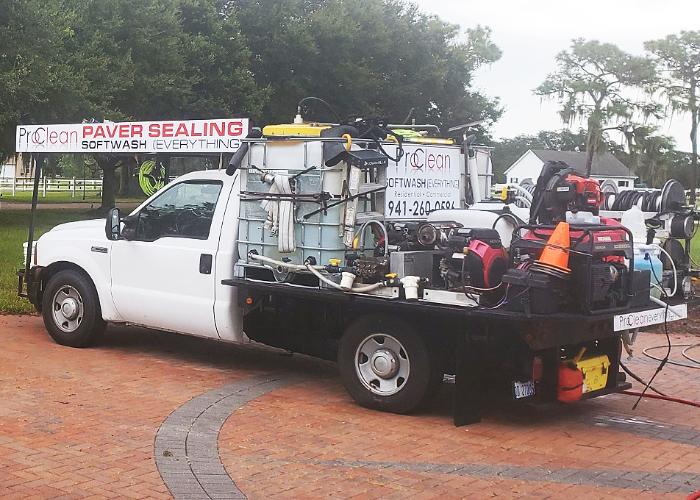 When to Invest in Roof Cleaning and Other Power Washing
Because tile roof cleaning and other power washing services in Bradenton are so vital for your home, you might wonder how often you should schedule this work for your property. Because Florida structures are often covered in layers of sand, silt, and gritty debris, as well as soot from the state's many airports and marinas, it's often recommended that you schedule roof cleaning and exterior wall washing every year or two at the most.
A homeowner might also schedule added cleaning as needed; for example, if your deck or patio get lots of foot traffic throughout the year, consider annual cleaning to remove thick layers of dirt, grime, and smoke from outdoor cooking appliances. Semi-annual driveway and sidewalk cleaning removes grit and grime from all those pits and pores along concrete, asphalt, and paver stones, keeping them looking their best.
A homeowner should also schedule power washing before putting their home on the market or when moving into a new home that's been somewhat neglected. A thorough pressure washing will remove damaging, unsightly, and unhealthy dirt and mold, for a clean and pristine property.
ProClean Pressure Washing of Bradenton is happy to provide this information about tile roof cleaning in Bradenton to our readers and we hope you found it helpful. If you need roof cleaning, exterior wall washing, or any other power washing services, turn to our crew of trusted Bradenton power washing contractors. We offer FREE quotes and stand behind all our work with a customer satisfaction guarantee you can trust. To get started with your quote, give us a call today.